2012 Honda - Elise Conversion
Conversion components are available as a complete Kit or individual pieces. The Sun Speed Honda conversion is designed, engineered and, produced by racers (Indy 500, Le Mans, Baja 1000, Sprint cars) for racers. Also available street legal catalyst and OBD2.
Don't waste money on repairs to the worthless Rover engine. Don't buy Rover performance upgrades. Converting to Honda provides more power, broader power band, higher revs, durability and, easier less expensive service anywhere in the world. The Honda power train has many high quality, high performance possibilities. Suggested shop time to install is 40 hours. We welcome inquiries from professional technicians.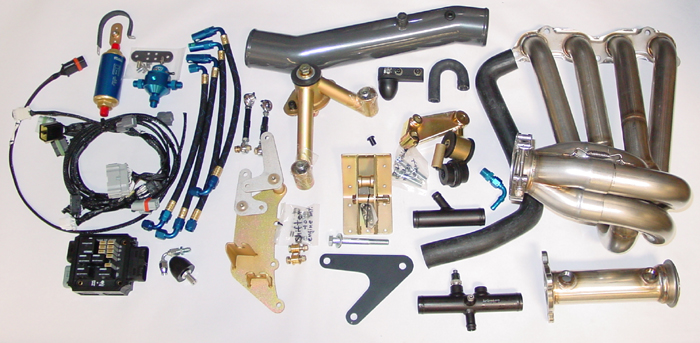 Sun Speed Custom Engineered and Produced Components
Miscellaneous: plenum plug, exhaust manifold to muffler connection pipe,
Optional Sun Speed, Honda, Elise, Hi-Performance Conversion Components
motor mount, rear - racing

super charger

High Performance Exhaust Components