1940 Packard Custom Super 8 One-Eighty
Convertible Victoria by Howard "Dutch" Darrin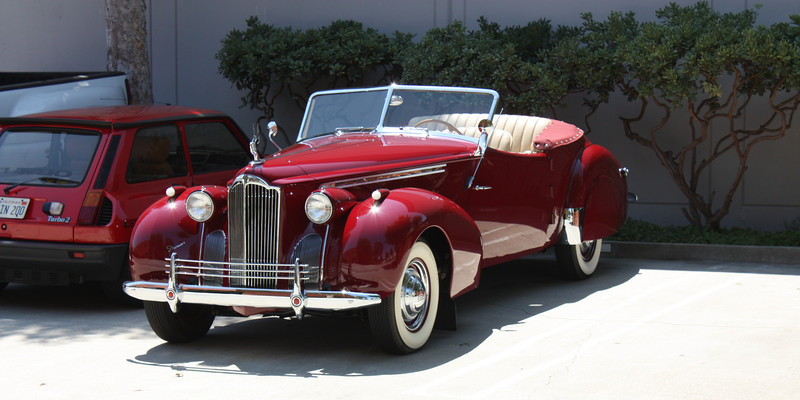 Pebble Beach Concours Winner
Packard Motor Works
Like others in the early days of auto building, James Ward Packard of Warren, Ohio, was brilliant when immersed in mechanical and electrical challenges. In his lifetime he filed more than 40 patents. In 1899 he and his brother William Doud Packard built the first Packard automobile, the "Ohio Model A." The Ohio Automobile Company began manufacturing cars in 1900.
In 1902, on a trip to New York City, Henry Bourne Joy, a son of one of the wealthiest families in Detroit (for whom Joy Road is so named), happened to see two Packard autos chase down a horse-drawn fire wagon. Intrigued, Joy bought the only Packard available in the city. In October of that same year, Henry Joy drove a Packard in a New York-to-Boston reliability contest with 75 other contestants and received a gold medal.
He was so impressed with his Packard that he convinced the brothers to move operations from Warren, Ohio to Detroit, which offered significant financial and production advantages for large-scale car manufacturing. The Packard Motor Works Company was born.
Joy immediately made plans for a new manufacturing plant off Grand Boulevard:
"Architects Albert and Julius Kahn have been awarded the general contract for the construction of the Packard Motor Car Plant," the Detroit Free Press reported on June 28, 1903.
The plant was regularly expanded. By 1908 it was six times as big, and eventually with truck production and a service center added, it covered an entire block at 3.5 million square feet.
Packard was a luxury brand, one of the "Three P's"—Packard, Peerless (Cleveland) and Pierce Arrow (Buffalo). The company developed notable innovations such as the modern steering wheel and a 12-cylinder engine, and it was the first passenger car to offer air conditioning.
After the move to Detroit, James and William Packard focused attention on the electrical system of the vehicles, which resulted in the spin off supplier Delphi Systems, which was bought by GM in 1932. William died in 1923 and his brother James died in 1928.
Packard Motors later merged with the Studebaker Corporation but it proved to be a mistake and Packard gave up the ghost in 1958. The company's abandoned Detroit plant, however, would gain notoriety a half-century later as Exhibit A of Detroit ruin, covering about seven acres.
Please visit our other Classic Automobiles: