The Ultimate 1932 Packard 905 Twin Six Coupe Roadster
At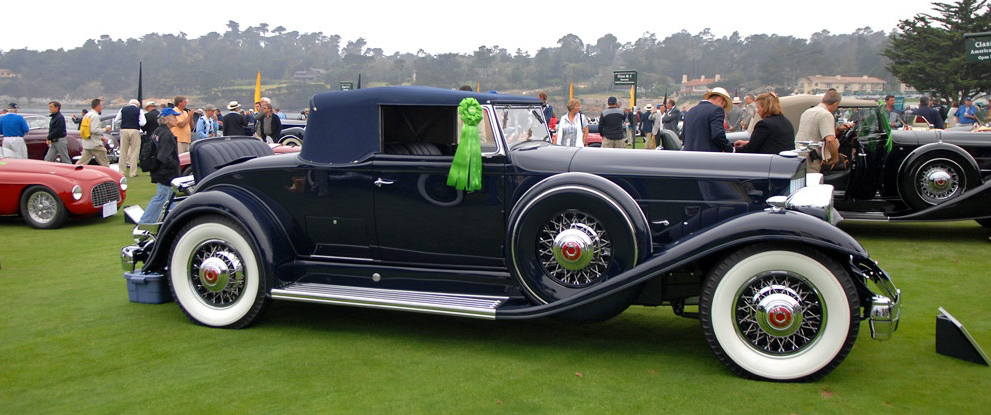 Chassis No. 900471
Engine No. 900481
Vehicle No. 579-64
Condition: Concours d'Elegance winning, authentic, correct
Miles: < 1000 miles
Exhibitions: 2009 Pebble Beach Concours d'Elegance - Best in Class
2009 Fall, Glenmoor Gathering - Award of Distinction
2010 Amelia Island Concours d'Elegsance - Best in Class
2010 Meadow Brook Concours d'Elegance - Best in Class
2010 June, weekend at Hickory Corners. Saturday, awarded First Place Primary Division, perfect score 100 points. Sunday, CCCA Museum Experience, winner - Best of Show.
All of the above Concours events were by famous Packard owner, restorer and collector - Thomas (Tom) A. Moretti
Currently offered for sale by The Madison Zamperini Collection
Service: 2017 complete engine rebuild by Mosier
Location: Zamperini Field, Torrance, California
Provenance:
Sold new November 14, 1932 by Packard dealer / distributor Earl C. Anthony, Inc. Los Angeles to:

Clark Gable California registration 1Y1

C. Jewell, res. 2nd Ave. Los Angeles

D. H. Kornvedt, Cambria California 1949

Jack Passey

George Petrusich 1962 or 1963

C.A. Leslie 1968

Don Wohlwend, Camano Island, Washington 1989

Tom Moretti
Reference:
Comparison:
Please visit our other Classic Cars for sale
About Our Car:
Of the 549 Twin Six chassis Packard completed for 1932, few possess the exceptional history, pedigree and beauty of this very special Coupe Roadster. The story behind this remarkable automobile begins on November 14, 1932, when this Twin Six, 579-64, was sold by official Packard distributor, Earle C. Anthony Inc. of Los Angeles. As indicated by its vehicle number and the factory's policy of numbering bodies in sequence beginning with 11, this Coupe Roadster was the ultimate, the last of just 54 examples built. Upon its arrival in Los Angeles, it is believed that this Twin Six was sold new to Clark Gable, a young leading man who had only just begun his ascent to stardom. In 1932, the 31-year-old actor was only two years into his contract with MGM and the purchase of a glamorous $4,250 12-cylinder Packard Roadster represented a decisive leap into the world of fine motorcars. One of Hollywood's first great car enthusiasts, Mr. Gable owned an impressive array of automobiles throughout his career, including two supercharged Duesenbergs, several Packards and a rare Jensen-Ford. After WWII, he owned a Jaguar XK120, a Mercedes-Benz 300 Sc Cabriolet and a 300 SL Gullwing. During Mr. Gable's ownership, his Twin Six was California registered 1Y1 and made frequent trips to Bohman & Schwartz in Pasadena, where it was continuously updated to suit the latest fashions. Between 1932 and 1934, the Coupe Roadster was repainted, reupholstered and gained all of the era's popular accessories, including wheel discs, Pilot-Ray driving lights and a rear-mounted trunk. These subtle updates can all be noted by studying the various photographs of Mr. Gable posing with his impressive Packard. Finally, in 1934, Mr. Gable sold the two-year-old Twin Six to make way for the latest 12-cylinder Packard Roadster, a LeBaron Speedster Runabout. For the next two decades, the 1932 Coupe Roadster passed between several California old-car enthusiasts, a common journey for a used, albeit desirable, luxury car. The next recorded owner of the Twin Six was Mr. C. Jewell, who lived on 2nd Avenue in Los Angeles, less than 10 miles south of Downtown. By 1949, having survived the scrap drives of WWII, the Coupe Roadster was owned by Mr. D.H. Korntved, a car enthusiast living in Cambria, California. Photos of the Packard taken early in his ownership show it to be remarkably complete and unmodified. In the late 1950s, Jack Passey discovered the Twin Six sitting in a backyard near Greenfield, California. After tracking down the owner, Mr. Passey paid $75 for the Packard and towed it home. In 1962 or 1963, Packard Twelve enthusiast George Petrusich offered Mr. Passey a substantial profit for the Coupe Roadster and proudly took ownership of the car. In 1968, Mr. Petrusich sold the Twin Six to C.A. Leslie Jr., who is said to have paid $5,000 for the rare classic. Regarded as the doyen of the Twin Six Association, Mr. Leslie was an Oklahoma City businessman with a deep appreciation for Packard automobiles, particularly the prestigious 12-cylinder cars of the 1930s. Over the years, he collected data on Packards and became one of the most respected early historians of the marque. He authored countless articles for club magazines and contributed to Beverly Rae Kimes? Packard ? A History of the Motor Car and the Company. When he wasn't researching or writing about Packards, Mr. Leslie cultivated a fine collection that included several Twin Six models, a 734 Speedster and a Murphy- bodied Hudson among other choice automobiles. After purchasing the rare Coupe Roadster, Mr. Leslie was approached by fellow Oklahoma City resident and Packard collector Major Conrad Clough. It was Major Clough who first told Leslie of his Packard's remarkable Hollywood connection. According to correspondence, Major Clough lived in Santa Monica during the early 1930s, at which time he owned both a 1932 Twin Six Convertible Coupe and a 1934 Dietrich Sedan. Not only did he remember Mr. Leslie's Twin Six from the early 1930s, Major Clough was also an acquaintance of Clark Gable's and recalled seeing the car at Earle C. Anthony's when it was in for service. Major Clough noted that, at one time, the Gable Twin Six was painted a very dark blue, almost black. In 1989, after two decades with Mr. Leslie, the Packard was sold to Don Wohlwend of Camano Island, Washington. During his ownership, Mr. Wohlwend spent countless hours researching his latest find and uncovered many interesting details concerning its early history. He even managed to track down the mechanic who kept a shop across from the studios and occasionally worked on Mr. Gable's Twin Six. Further evidence was discovered when the Coupe Roadster was sent to Portland and stripped for paint. Underneath a more modern two-tone paint scheme was a clear, single layer of dark blue, just as Major Clough recalled. By 1997, Mr. Wohlwend had made slow progress on the Twin Six restoration and decided to part with the car, hoping that it would go to a caretaker who could do such an important automobile justice. In a recent conversation, Mr. Wohlwend explained that he approached Thomas Moretti with the Twin Six, having long admired his stewardship of great Packards. Intrigued by the project, Mr. Moretti traveled to Washington, along with Peter Rosi, to inspect the car. After some time, an agreement was made and the Coupe Roadster joined Mr. Moretti's esteemed collection of 12-cylinder Packards.
Despite requiring a full restoration, the Twin Six was found to be a very complete and original example, with the correct body (579-64), engine (900481), frame (900471) and steering box (900479) numbers. To return the Coupe Roadster to its as- delivered appearance, Mr. Moretti continued to research the history of the Twin Six and sourced factory photos from the Detroit Public Library archives to ensure authenticity in every last detail. As a result of Mr. Wohlwend's findings, the coachwork was refinished in Packard Blue and highlighted by a subtle light-gray pinstripe. To complement the elegant outward appearance, the interior was reupholstered in dark-blue leather, with matching carpets and soft top. Tastefully equipped with whitewall tires and the sporting "Goddess of Speed" radiator mascot, this Coupe Roadster has a commendable, factory-correct appearance. Completed in 2009, the Twin Six made its debut outing at the Pebble Beach Concours d'Elegance, where it was displayed in Class C-3: American Classic Open Packard. After participating in the Tour d'Elegance, the beautifully presented Twin Six upheld Mr. Moretti's undefeated record at Pebble Beach and received a First in Class. Following the excitement of a fifth consecutive Pebble Beach victory, Mr. Moretti continued to demonstrate the Coupe Roadster's winning ways. In Fall 2009, the Packard was shown at the Glenmoor Gathering and received an Award of Distinction. In 2010, it captured First in Class honors at Amelia Island and Meadow Brook, two of the most competitive concours in the country. In June of that year, Mr. Moretti brought the Twin Six out for the annual weekend at Hickory Corners. At the Grand Classic on Saturday, the Coupe Roadster was awarded First Place in the Primary division and achieved a perfect 100-point score; the following day, it participated in the CCCA Museum Experience, where it was bestowed with Best of Show honors. With its open fenders, graceful proportions and unique detailing, the 1932 Twin Six Coupe Roadster is widely regarded as the most attractive of all the factory-bodied Packards. According to various sources, including the records of Mr. Leslie, no more than eight genuine examples are known to survive today; some say there are as few as five. Beyond its important connection to one of the most iconic Hollywood stars of the 1930s, this Twin Six has spent the past 60 years with some of the most respected and established Packard connoisseurs including Jack Passey, C.A. Leslie Jr. and Thomas Moretti. Furthermore, the splendid restoration lavished on this car is truly second to none. Each and every aspect of its spectacular presentation speaks to Mr. Moretti?s single-minded dedication to his craft. In consideration of its exceptional provenance, extreme rarity and impeccable award-winning pedigree, this Twin Six must be regarded as one of the finest examples of a genuine connoisseur's Packard. The appearance of this magnificent car at auction represents an opportunity not to be missed. Thomas Moretti was a passionate collector whose interest in classic cars began during his formative years. Mr. Moretti began restoring classic cars as a hobby in 1960 and 14 years later he restored his first Packard, a 1937 Super Eight Convertible Victoria. Over the past 50 years, he owned and restored a variety of automobiles, but once he experienced the fine qualities of a Packard Twelve, he never looked back. With their superior engineering, superb styling and prestigious reputation, the Packard Twelves, particularly those built between 1932 and 1936, were the cars that Mr. Moretti most admired. After searching for a suitable project, in the 1990s Mr. Moretti began his first restoration of a Packard Twelve, a 1936 LeBaron-bodied Town Car that he had discovered in Southern California. Committed to fine workmanship and with a keen eye for detail, Mr. Moretti spent three years restoring the rare coach built Packard to its original splendor. To ensure that his restorations were conducted to exacting standards, Mr. Moretti built his own full-service workshop near his home in Inverness, Illinois. Leaving only upholstery, plating and engine machining to knowledgeable outside specialists, The facility of Mr. Tom Moretti was equipped with every imaginable necessity for carrying out a thorough restoration. That he created this first-class facility for his own purposes, rather than for commercial prospects, is a testament to an extraordinary dedication to his craft. Mr. Moretti's painstaking efforts culminated at the 1997 Pebble Beach Concours d'Elegance where he justifiably earned a First in Class award. This impressive result was the first of many nationally recognized concours honors ? between 1997 and 2011, Mr. Moretti's impeccably restored Packard Twelves were rewarded with five First in Class awards at Pebble Beach, as well as major prizes at Meadow Brook, Amelia Island and the most competitive AACA and CCCA venues. Beyond the inherent quality of his restorations, Mr. Moretti's encyclopedic knowledge of Packard Twelves and his genuine passion for the cars earned him the respect of professional restorers, concourse judges and fellow hobbyists. His undefeated record at Pebble Beach, five back-to-back First in Class awards in a span of just 12 years, is to be envied by professional restoration firms, even those that specialized in the Packard marque. His reputation was such that many of the best professional restorers would intentionally delay their projects in order to avoid direct competition. When not engaged with his restoration endeavors, Mr. Moretti was an active member of the CCCA, participating in Caravans and serving on the classification committee. Presented with crucial choices, he was known for maintaining a discriminating standard and, in keeping with these beliefs, Mr. Moretti only selected genuine examples (with original chassis, bodies and engines) for his personal collection. In addition to his many achievements in the classic car hobby, Mr. Moretti will be remembered for his engaging personality, dedication to excellence and generosity. Gooding & Company is honored to have been entrusted by the Moretti family to present the Thomas A. Moretti collection at auction. For those who have always admired Mr. Moretti's passion and quest for automotive perfection, this is a marvelous opportunity to treasure a piece of his lasting legacy and to acquire one of his prized Packard Twelves. Pebble Beach Concours d'Elegance First in Class Winners: 1997: 1936 Packard Twelve 1408 All-Weather Town Car 2000: 1936 Packard Twelve 1407 Coupe Roadster 2003: 1934 Packard Twelve 1107 Convertible Victoria 2007: 1934 Packard Twelve 1107 Seven-Passenger Touring 2009: 1932 Packard Twin Six 905 Coupe Roadster
Technical Specifications:
Series 905.

Engine Specifications: 445.5 CID L-Head 67° V-12 Engine Single Stromberg EE-3 Downdraft Carburetor

160 BHP at 3,200 RPM

3-Speed Synchromesh Manual Gearbox

4-Wheel Vacuum-Assisted Mechanical Drum Brakes

Front Beam Axle Suspension with Semi-Elliptical Leaf Springs and Shock Absorbers Live Rear-Axle Suspension with Semi-Elliptical Leaf Springs and Shock Absorbers

rumble seat

miles < 1000