Renault 5 Turbo PPG Pace Car
Renault / AMC PPG PACE CAR, the only PPG PACE CAR in private ownership. This car has been disassembled and totally restored. We have improved many features.
Link to Car & Driver article explaining this car
More photos @ Sun Speed PPG Pace Car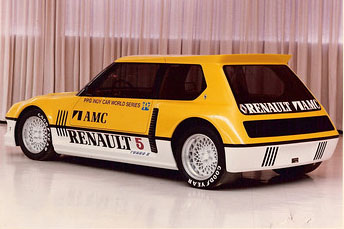 The PPG Pace Car Series was based on the manufacturers' street version automobiles. In this case, an R5 Turbo Series 1. The design and production is by Dick Teague and his staff at AMC working after hours. This Pace Car was a completely engineered "runner" that paced the Indy Car races.
Associates: the Classic Road, Spain