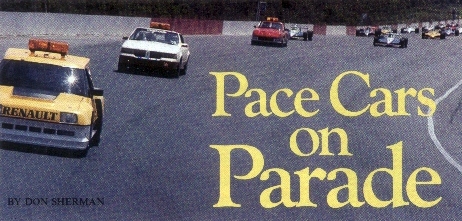 PPG has a tradition of commissioning Pace Cars for the Indy Car Series. In 1982 Dick Teague of Renault / AMC used the Renault 5 Turbo as the basis for the Pace Car. Sun International now has that car in our workshop for restoration for use on the track and street. It is, perhaps, the only PPG Pace Car in private ownership.
Following is an excerpt from an article on this one-off special R5 Turbo, by Don Sherman, for CAR and DRIVER magazine, December 1982.
Renault 5 Turbo II
"When AMC was offered a chance to field a race pacer, it surprised everyone involved by choosing a model neither manufactured nor sold in the U.S. of A.
In deference to its French backer, AMC chose a Renault 5 Turbo. For those of you not up on your Renaults, that's the one that looks like a Le Car but runs more like a le rocket. Dick Teague, AMC's vice-president of styling, won the creative responsibility, and his mandate from higher-ups was to have fun without messing with the 5 Turbo's original "genre." We take this to mean that the higher-ups weren't quite ready for the rocket ship body the 5 so richly deserves. Given that constraint, Teague worked up an all-new Turbo II body that is essentially a slickened, wider-tired version of the production model.
Teague's one claim to originality here is the gull-wing doors that use a few components actually pirated from - you guessed it - the De Lorean parts bin. They look great in the pace-car context, but demonstrate just how hard such a design is to perfect in normal, day-to-day cars. The view out from the Turbo II is terrible because its low roofline forces one's head into a pocket in what becomes the ceiling once the gull wing is retracted. One must bend down to see forward, and vision to the back is further compromised by the darkest window tinting this side of Ronald Reagan's limousine.
But it's the view from the outside in that counts to the sports fans. Dick Teague has done a masterly job of caricaturing the original car in this new low-roof, tall-tire edition. His roof wedge helps streamline the basic box shape. Few seams mar the new bodywork; the bright -yellow expanses are instead interrupted by wicked-looking black grate work where necessary. The rolling stock is Goodyear race rubber over BBS modular wheels, equipment very similar to what Renault Racing used on it's IMSA GTU competition version of the 5 Turbo. As a matter of fact, suspension components are from that very same 1981-season program. The Turbo II's powertrain is factory stock for the time being, but the turbocharged and intercooled four-banger in back does a respectable job once the boost is up.
It's a safe bet that the Turbo II is not a look into the future of AMC/Renault's small-car styling. Nevertheless, it does spread the firm's name out before the oval-track fans, a bunch that hasn't shown a whole lot of appreciation to date for funny-looking econoboxes from France."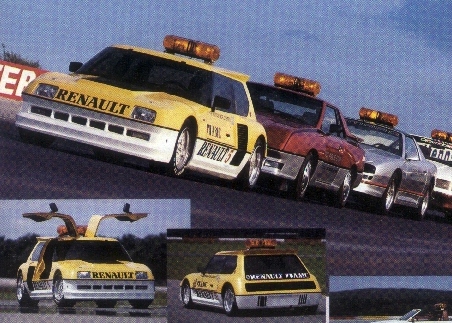 Photos @ Sun International during restoration PPG@suninternational-usa.com