1964 AC Shelby 289 Cobra USRRC / FIA
At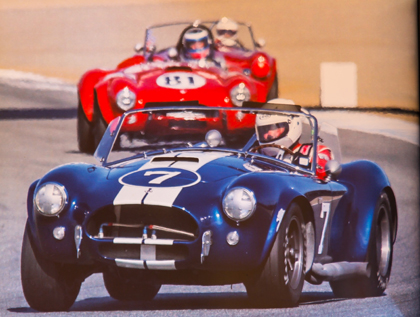 Location: Zamperini Field, California
We have been the technically capable, enthusiast caretakers of this original AC Shelby 289 Cobra chassis no. CSX 2534 for nearly 40 years. It has never been offered for sale during those 40 years. Now available for sale to a new enthusiast for street and track. .
Completely original 289 Cobra restored in the early 1980's to include the factory 427 prototype wide fenders and cutback door modifications. The history of this Cobra is covered in the SAAC Registry.
Explanation of the FIA / USRRC AC Shelby Cobra modifications from: Sports Car Digest
Presently and for quite a few years it has a 440 hp fun run engine with metallurgy to anytime go to 500 plus and be reliable. It is however a stroker 330 incher for the sake of some vintage race rulings. i.e. std stroke for 289 inches. Trans is a close ratio top loader.
Original 5 bolt hi po (high performance) engine with car and T-10 close ratio box plus the very rare iron COBRA script scatter shield. Engine is std. bore and heads with the Fomoco C7FE Le Mans cam installed with about 6k miles from rebuild on it in 30 some years.
Has no soft top nor did it when we bought it in 1980. Has metal grill and jack plus bits from the restoration.
Original AC Shelby chassis CSX 2534 was made at AC Cars, shipped over by boat and finished on Shelby's production line at LAX in '64 or '65. The CSX numbers in the 2000 series are the real and only authentic, original AC Shelby Cobras. Chassis No. 2534 is later which is also good as the earlier peculiarities were developed out and the cars were at they're best for performance. By the way our fun run engine is the 4 bolt main block, which doesn't need the windage tray because the pan is so well developed these days. Slosh is well controlled.
Life long affiliation with Mike McCluskey, and other Cobra specialists at McCluskey Ltd.
"I was Mike and Gary Haines first employee at McCluskey Ltd. back in 1973. Corkey taught me a bit about European versus domestic pigments. Green and red tone blues, Murano (pearl) for some fire and under tones of green I've forgotten. Anyway I mixed many samples of pigments until I thought it came in fairly well, so Thompson lacquer mixed my acrylic lacquer recipe. I did the actual painting and metal work on the hood scoop oil cooler opening, relocating of the Le Mans filler the cutback doors and exhaust openings. Also the front flairs and wiring them, That's the edge rolling to finish them. The car came with an original front clip back to the top of the flairs or close to the hood front area. I welded it on. The rear clip came from some one on the east coast. All welding I did with gas, soft aluminum rod, Burtsweld lenses and flux just as AC did and in WWII. The lenses don't let the red gas cloud to visual as the alloy goes into liquation or puddle. That's how the Rosy Riveters made alloy gas tanks, as I did for thefuel tank/cell in the Cobra. No one touched the car but me since 1980, all work by me. Turns out the way the cutback doors were done was to cut both sides off at the rear and reverse sides so they roll forward!! Easy. Paint is my blue, clear, color sand and buff. I waited abut six months or more before I got serious to let it gas out, did sample spots intermittently until it felt ready."
The now spare engine and gear box were in the car when we got it, probably the original as 5 bolters were not common at all. There are no matching serial numbers on Cobras like the GT350's. A strict 289 class it will not be allowed. But the days of Steve Earl are going. Vintage would allow it anywhere. It was allowed to run at Monterey in 2012. Engines get changed, rebuilt all the time in Vintage.
"cutback doors" . . .
"The performance of the Ford V8 soon overpowered the standard racing tires, and Shelby, with Ford's support, looked for better rubber. As much as Ford was battling Ferrari and Jaguar for dominance on the track, Goodyear and Firestone were locked in a desperate struggle for supremacy in the "round, black things" that put it all to work. Shelby found its solution first in the "Stock Car Specials" Goodyear built for NASCAR, getting the winged foot technicians to cut a shallow blocky tread pattern on the NASCAR slicks (that soon became slick in competition) that locked the Ford engine's generous torque to the pavement.

Eventually, bigger tires required wider wheels, and by the 1964 FIA season, the narrow AC-derived 289 Cobra body no longer could claim to encompass them within even the most aggressive tacked on flares. The wide hips that would later come to characterize 427-powered Cobras made their debut on a series of 1964 FIA Cobras, and even they were barely able to shelter the 8 ˝-inch wide Halibrands and their beefy rubber. The exaggerated rear fenders extended into the door area, which necessitated reshaping the doors to a radically radiused rear edge and inspired the moniker "cutback doors" that has come to characterize these cars, the ultimate in small block competition Cobra development.

The voluptuous fenders, huge air intakes, big wheels and tires foreshadowed the new Cobra II, the 427-powered coil spring suspension Cobras that would soon supplant the first generation. Combining the aggressive appearance of the later 427s with the lighter weight, more responsive chassis and better balance of the small block Cobras, the cutback door Cobras set a standard for aggressive appearance with performance to match which still inspires admiration.

Later in 1964, Shelby completed a series of the ultimate competition 289 Cobras. Essentially constructed to FIA specs with wide rear fenders and cutback doors, they are known as the USRRC cars and were built with minor differences specifically to the rules of the U.S. Road Racing Championship. In addition to their USRRC-specific equipment, they incorporate everything Shelby had learned in three years of intense competition with the world's most experienced and accomplished marques." autoblog.com https://www.autoblog.com/2010/02/12/1964-shelby-cobra-factory-race-car-up-for-sale-at-amelia-island/

Same owner for the last 38 + years

History is documented in the SAAC World Registry

Wilton wool carpet

Connally leather

Acrylic lacquer paint

Originally wire wheel, Princess Blue / black interior

Billed to Shelby American 8/04/64

Shipped to LA aboard SS Garth Lock

Originally invoiced to Archway Motors 11/16/64 Baltimore, MD

Delivered to Marina del Rey via Shelby truck

1st purchased by James M. Maginnis date not known precisely
2nd purchaser Jay Anderson, Washington D.C
2nd purchaser advertised it for sale circa 1968 description as having been dissembled due to front end collision and need of restoration

Purchased by Charles R. Rayburn, Mahomet, Il Not clear what work was done.

Purchased by Sam Rarace circa 1974

Offered for sale 04/75 with "new parts included"

Purchased by Dick Roush, Puyallup, WA 05/75 with the intention of restoration to cut back door configuration. Mr. Roush subsequently found another 289 Cobra and advertised this car for sale Spring 1980

May 1980 purchased by current owner intending to convert to cut back doors race version. Beginning of 4 year restoration.

Restoration: . complete "skin off" using original AC 427 style rear flare panels, scaled down 427 style side exhaust, aluminum skinned foot boxes, and re-wiring to clean up the fire wall. Installed 289 style roll bar, FIA hood & oil cooler scoops fabricated

A few years later mild rear end fender bender in LA traffic leading to an even more comprehensive restoration and revision.

2nd restoration: located original "cut back doors" aluminum rear clip from east coast, w/ body off the chassis frame was inner sleeved for strength and rigidity, rear inner panels moved in board about 2" each for wider wheel clearance both operation seldom done as they are labor intensive by craftsmen. Further restoration: new fuel cell w/ Le Mans filler cap at proper USRRC/FIA body location, doors re-skinned, A.C. (Auto Carrier) Vintage racing front suspension modifications i.e. re-forging the transverse leaf spring assembly to 3° negative camber, larger sway bar, modifying the steering arms to work better and clear wider alloy wheels

installed "fun run" 440 hp engine in front of close ratio top loader currently.
Some vintage racing over the years of ownership Including L.A. downtown street race, 2012, the 50th Shelby anniversary Laguna Seca event
Spares:
1 ˝ sets original 6 ˝ - 8 ˝ Halibrand magnesium FIA wheels

1 set 7 ˝ & 9 ˝ alloy S/C wheels

1 set PS engineering 8" and 10" FIA Kidney Bean wheels (the only set PS Engineering made)
My first - AC Shelby Cobra CSX 2160