The Road Less Traveled
1977 Sun International Racing (SIR): importation and certification of enthusiast cars that were not available in the USA. E.g. Ferrari Boxer, Lamborghini Countach, all Group B cars, Renault R5 Turbo, Group A Cosworth, Lancia Stratos, Porsche 959, etc. for special customers, Clint Eastwood, Wilt Chamberlain, Rod Stewart, Fleetwood Mac, Michael Jackson, and more. Our cars were featured in all the automotive media, and the movies. SIR accomplished US government certifications that the original manufacturer could not. SIR has US EPA Engine Family Certifications (EPA & CARB) and DOT Certifications ( safety standards) for the Renault 5 Turbo, Ford Escort RS Cosworth. SIR is the official vehicle manufacturer.
1995 Frankfort Motor Show, the introduction of the Lotus Elise began our association with Elise in discussions with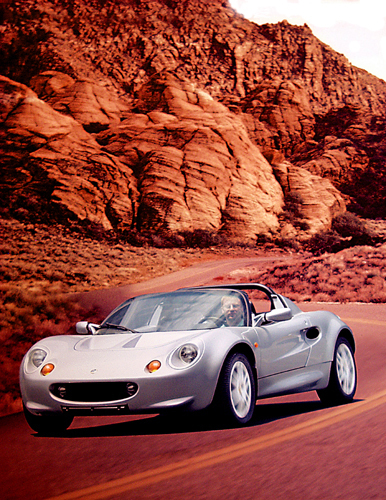 Lotus management to use our US EPA & CARB certified 1.9 liter Cosworth engine in the production version Elise.
1997 Sun Speed Honda Powered B18 Elise converted the Rover powered Elise to the US certified Honda B18 for our independent Elise importation program. Honda is the world's best small block "hot rod" engine. The Elise powered by Honda becomes a super car. A modern Shelby 289 / 427 Cobra with the Honda B18. With much better handling, stopping and quicker acceleration. Installing Honda into the Lotus Elise is a "natural" transforming the stylish, competent, country lane Elise into one of the best sports cars in the world.
2003 - 2018 Honda-Elise by Sun Speed DIY conversion Kit to install the 2.0 liter Honda K20A/FD2 power train into the Rover powered Elise. Light weight with more power, more torque, 6-speed gear box, limited slip, durability, easy servicing, etc. You can DIY. Or, do it with your professional automotive technician. Or, we can do the conversion at our workshop in Southern California at Zamperini Field. 90 minutes from the "Fastest Road in the West" Willow Springs International Raceway. Or, referral to our experienced technicians in Australia, Germany, Hong Kong, Japan, Macau, Malaysia, Norway, New Zealand, Singapore, Sweden, Taiwan, UK.
Members of the Sun Speed Team have competed at Le Mans, Indy 500, Baja 1000, Sprint Cars, Midgets, IMSA, SCCA, US Space Program and more.
Consulting - for anything automotive.
Media Center Photo by: PhotoDesign10
Links: George Bartell Erich Bitter McCluskey Ltd
"You can feel the road and it feels good"