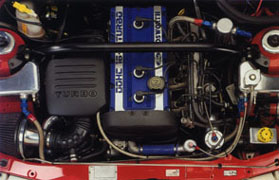 COSWORTH YBT 2.0 liter. Until 07/94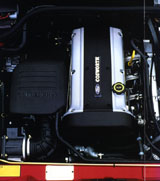 COSWORTH YBP 2.0 liter, from 07/94 to 01/96 Engine modifications from the previous YBT engine:
Garrett T25 low inertia turbocharger
Ford EEC-IV engine management module
new throttle body
new exhaust manifold plenum chamber
new engine coolant / air temperature sensors
new crankshaft pulley and new engine speed sensor
new sequential fuel injection timing sensor
new mass air flow sensor
new long-life spark plugs (extended 20,000 mile change intervals)
new breakerless direct ignition system with high tension spark plug mounted coils
improved long-life oil filter (extended 10,000 mile oil/filter change intervals)
redesigned high speed oil control system w/ new baffles and separator
new oil pump and piston oil spray jets
redesigned cylinder head incorporating new long-life valve guides
new long-life engine oil seals
recalibrated power curve peaking at lower engine revs (5,750 instead of 6,250 rpm)
revised flatter torque curve (90% peak now exceeded over 20% wider range)
revised overboost strategy (up to 8 secs instead of between 2 and 3 secs)
Both engines have the same power and torque. The YBP produces power and torque at lower rpm than the YBT. Our understanding is that the YBT configuration, especially the larger turbo, was for the purpose of World Rally homologation. The YBT is much simpler to increase power output to high levels, e.g. 300+ hp. The later version, YBP engine, is restricted by the smaller turbo and eec-iv engine management system and consequently more difficult to effectively increase the power.