1982 Rondeau M 382
-02
Golden Eagle Racing IMSA GTP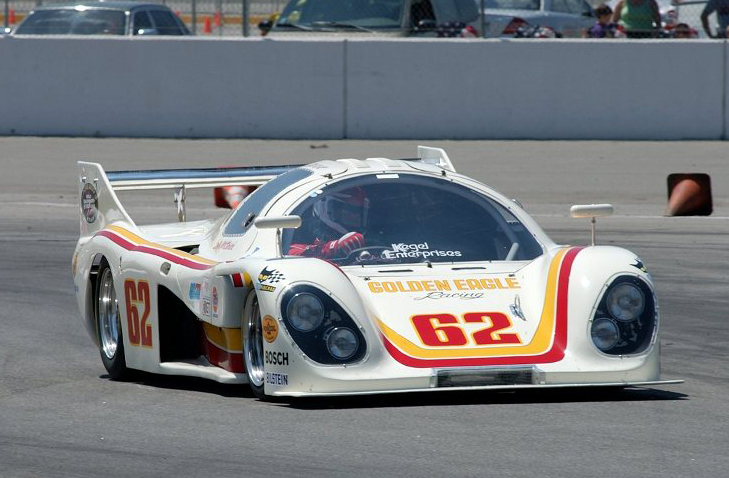 Description
This is the Bill Koll Golden Eagle Racing team Rondeau M382-02 IMSA GTP car. Of 17 total production of Rondeau race cars, 8 379's, 7 382's and 2 482, our car is M382/02. No. 2 of seven model M382's produced. And, the only one with original Rondeau chassis plate. And the only Rondeau to come into the USA to run the 1982 season. 1982 best finish, 3rd in September at Sears Point driven by Skeeter Mckitterick. Full history at RacingSportsCars.com photos archive IMSA 1982. Has about 8 hours of use following total restoration 5 years ago. Solid race car fitted with Chevrolet installed personally by Rondeau using a unique manufactured installation kit to replace the original lower hp DFV after Daytona. New suspension, excellent original Hewland VG-018 gear box, all maintenance up. Have original team file including 3 page Rondeau bill of sale. Possibly the only Rondeau having a factory ID tag and also stamped on the forward lower bulk head like this one. This car flicks like a two liter but more powerful acceleration and stops on a dime.
Our group has owned Rondeau M382 #2 for nearly 10 years. We are the 5th owner. The 1st owner was Bill Koll / Golden Eagle Racing who paid $195,545.00 new without the Cosworth DFV engine. According to the receipts we have the DFVfs cost $18,700.00 which was a lease not purchase. The current Chevy engine was engineered by Rondeau. We still have most of the original Cosworth engine installation pieces. The original installed DFV was number 314 and engine # 290 was a spare.
The second owner was Rick Titus who was going to make a street legal super car out of it.
We have a lot of the original documentation and gstuffh including: invoices, receipts, timing sheets from Daytona 24 hour test, original Bill of Sale, many photos from the racing era, 20 original prints from 1982 racing promotion, etc. And, the windshield and body molds.
Itfs easily possible to go back to a Cosworth DFV engine. But, the Chevy engine has more power, durability and less expense. Over the years each owner has continued to develop the car and make improvements. We completed the restoration and began racing in 2004. Our car has had caring and careful owners since the beginning. And, much of the original provenance is still with the car.
Race

History

January 30/31 Daytona 24hr. 34th; April 25 Riverside 6hr. 42nd; July 25 Sears Point, 3rd; August 22 Road America Pabst 500, 23rd (crashed running in 2nd place); September 5 Mid Ohio Lumberman's 6hr. 8th; September 12 Road Atlanta Sprite 500, 8th; September 26 Pocano, 4th. RacingSportsCars.com
Data
Class: IMSA GTP
Weight: 2300 lbs
Engine
Manufacturer: Chevrolet
Type: V-8
Displacement: 357cu in

/ 5700 cc

Horsepower: 640
Induction: Single 4 barrel replacing Hilborn injection, included
Heads: alum

inum

Block: iron
Total Time: 8 hours

since restoration in '05

Excellent

running condition

.
Fuel System
Fuel Cell
Age: 5 years
Capacity: 36 gal
Fuel Pump:

H

olly
Fuel Type: 110 up
Oil/Water System
Radiator: dual air to water, one oil to water
Oil Cooler: one air to oil
Electrical System
Ignition: distributor, modual MSD
Battery:

O

ptima sealed
Transmission
Body
Color: original livery white, red & yellow trim stripes
Paint: acrylic urathane
Condition: overall very nice race paint
some chips on bottom rear
Chassis
Builder: Rondeau
Material: steel tubular
Finish: grey
Condition: excellent
Front Suspension: unequal length control arm nickel
Rear Suspension: rocker top arm conventional wishbone bottom nickel
Shocks: gas

B

ilstein original in good condition
Brakes:

L

ockheed
Steering: rack and pinion Rondeau
Wheels: Gotti 16
Tires: Goodyear
Interior
Color/Finish: alum

inum

panel, grey and black
Fire System: halon system
Restraints: 5 point Willans
Gauges:

V

eglia,

A

uto

M

eter
Condition: excellent
Spares
numerous spare parts and large inventory of original memorabilia from the early '80's.
Original fuel cell for Cosworth DFV and most of the pieces to mount it

Lots of gears

Two sets of wheels

One set of Gotti centers

All wheels have replica Gotti centers made by the owner

Full set of original suspension, not uprights

Lots of spare electrics

½ interest in body molds made by the original team

Windshield mold

Original glass windshield, installed is Plexiglas

Spare front body mounts, many pieces

Many left over unused parts e.g. gages, fittings, crown wheel and pinion, brake hats + more

Many original Chevy parts e.g. fuel injection, magneto, dry sump.

Documents e.g. invoices and photos purchased by original team, serial numbers of the two leased Cosworth DFVfs

20 original 1982 "posters" commissioned by Golden Eagle Racing.
Other race cars available at The Madison Zamperini Collection: