1968 Lola T7 Mk III GT Coupe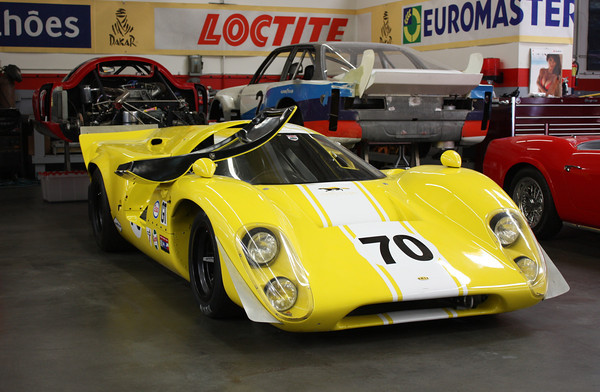 - The last of only 16 Lola T-70 Mk III Coupes built
- Featured in the classic film, Le Mans, starring Steve McQueen
- FIA documentation
- Fresh from a three-year professional restoration

Specifications:
Chevrolet 355 cu. in. pro-built V8 engine, estimate 600 bhp.

Carburetors: Weber IDF

Gear box:

Hewland type LG 600, aluminum reproduction, 5-speed, "HB Retro - Techno S/N 1006 1603

independent front and rear suspension,

vented four-wheel disc brakes.

Wheelbase: 95"
This 1968 Lola Mk III GT Coupe, chassis no. SL73-135, has a letter from Lola as well as FIA paperwork confirming its authenticity.
Late into the production of the storied Mk III Lolas, this last chassis, no.135, was completed as a street car to the specification of fabled team manager of Scuderia Filipinetti, Franco Sbarro, as they were no longer competitive against the likes of Ferrari and Porsche, not to mention the Mk IV developments of Broadley's famous Ford GT40. It was not surprising therefore to see it making a featured appearance in the 1971 Steve McQueen cult classic film Le Mans. But its dignity was shorn as Solar Productions dressed up this Lola as a Ferrari 512S, which was then crashed for a film sequence. (At the time the Lola was obviously viewed as more 'expendable' to the producers than a current 512S!) As reported by Auto Passion magazine (issues no. 24 and 26, June and August 1989, respectively) it was recovered by établissements de Kilmanie at Chambray-les-Tours and passed on to a driver from Tours, Jean-Marie Pesche. Pesche quickly repaired the car and fitted it with a Lola Mk IIIB nose and tail plus a ZF gearbox, believed to have been supplied by Sbarro. Participating in a local hillclimb with the car at Luynes in 1972, Pesche left the starting line and ended up shortly thereafter with the car in a pond. Intriguingly, after the race, Pesche's whereabouts became unknown, and the garage closed soon afterwards. The Lola eventually made its way to the UK, where it changed hands a few more times until it was eventually sold to Emilio Cruz Urguiza of Mexico City in 2003, carrying a chassis plate stating T-135. The origin of this tag is unknown and may have been produced during the Lola's rebuild after the movie crash. In 2004, Emilio sold it to another enthusiast in Mexico, which is where it remained until 2007 when it was purchased by its current owner and brought back to the United States for historic racing and eventual restoration.

Noted Lola expert John Starkey has since examined the car and has stated his belief that it is the chassis which was featured in Le Mans.