Jaguar XK 150 S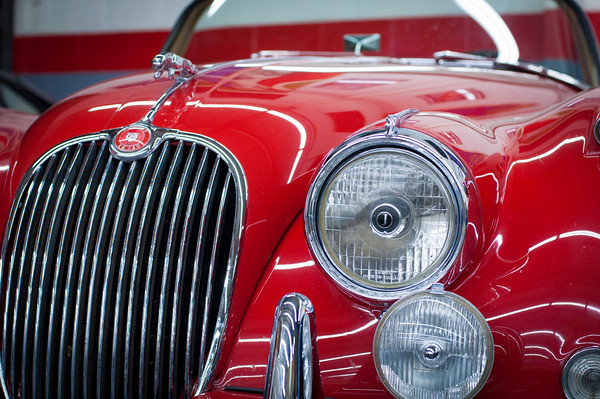 Photo Album Jaguar XK 150 S Roadster
We have several collector quality Jaguar XK 150 S in the Madison Zamperini Collection each one is in excellent condition for show and driving.
1959 Jaguar XK 150 S Roadster, red with tan leather
Our favorite "driver" on the touring rallies. In show condition and totally reliable. We received this car in "show condition" and then overtime made many detail improvements.
1959 Jaguar XK 150 S DHC, 3.4 liter, black with red leather
Our rare, classic XK 150 S DHC has 100 total run-in miles following a recently finished body off, frame up, complete restoration of chassis, mechanicals, engine, body, paint and all of the detail features. One of only 68 DHC LHD cars. After 15 years of restoring Jaguars the owner knew how best to do what was to be done and who is the best to do it. Because this was a very limited production model and in very original condition before the restoration, every aspect has been accomplished to make this a show winner.
Jaguar Heritage Trust Certificate

XK 150 3.4 liter "S"

Drop head coupe (DHC)

Left hand drive

Manual transmission with overdrive

Date of Manufacture: 26th January 1959

Matching numbers

Restored to the original black exterior with red leather interior

$200,000.00 + restoration cost by the best, all records

Current odometer following restoration: 100 total miles
1959 Jaguar XK 150 S Roadster
This car will arrive later in 2015.
HISTORY OF THE 1959 JAGUAR XK150S:
Among the most significant improvements over the XK120 and XK140, the XK150 had four wheel disc brakes, a larger radiator opening for better cooling, revised cylinder head, larger interior accommodations, wind up windows and curved one-piece windshield. The car had evolved into much more of a grand tourer with comfortable seats and an efficient heater. Searching for more performance the XK150S was announced in 1958, and thanks to a Harry Weslake designed cylinder head and high compression pistons, power increased from 190hp to 250hp (the same as the 5.3 liter V-12 13 years later.) XK150 production totaled 9,395 between 1957 and 1961, and of 2,263 XK150 Roadsters produced; only 888 examples were equipped with the 3.4 "S" engine (with its three SU carburetors), four-speed manual transmission and overdrive. 68 DHC LHD; 37 DHC RHD Total 105 cars.

Model history
Although bearing a family resemblance to the XK120 and XK140, the XK150 was radically revised. A one-piece windscreen replaced the split screen, and the wing line no longer dropped so deeply at the doors. The widened bonnet opened down to the wings, and on the Roadster the bulkhead was moved back 4 inches to make the bonnet longer. The XK140's walnut dashboard was replaced by one trimmed in leather. On the early Drop head Coupés, the aluminium centre dash panel, which was discontinued after June 1958, had an X pattern engraving similar to the early 3.8 E-type. Thinner doors gave more interior space. On the front parking lights, which were located atop the wings, a little red light reminded the driver the lights were on.[3] The standard engine, the same as fitted to the XK140, was the 3.4 litre Jaguar straight-6 rated at 190 bhp at 5500 rpm but most cars were fitted with the SE engine whose modified cylinder head and larger exhaust valves boosted the power to 220 bhp at 5500 rpm. Twin SU carburettors were fitted. While the first XK150's were slower than their predecessors, the deficit was corrected in the spring of 1958 with a 3.4-litre "S" engine with triple SU carburettors and a straight-ported cylinder to give a claimed 250 bhp. For 1960, Jaguar bored the 3.4 litre engine to 3.8 litres, rating this option at 220 hp in standard tune or 265 hp in "S" form. A 3.8 litre 150S could top 135 mph and go from 0–60 mph in around 7.0 seconds, thus restoring whatever verve the XK had been missing. Four-wheel Dunlop 12 in disc brakes appeared for the first time although it was theoretically possible to order a car with drums. Either wire wheels or disc wheels could be specified. Suspension and chassis were very similar to the XK140. Steering was by rack and pinion; power steering was not offered. Production ended in October 1960, and totaled 2265 Roadsters, 4445 Fixed Head Coupés and 2672 Drop head Coupés.