FORD RS 200 GROUP B Road Version

@ The Madison Zamperini Colletion:
We have been associated with this car since it left Ford Motorsport. This is the best road going RS 200 in the world. Better than new. Every aspect has been improved, up-graded, serviced by the best technicians at Sun Speed, Sun International Racing since 1985.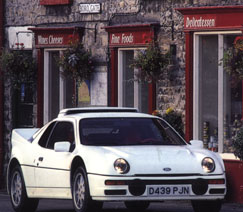 Drive it to the market. Drive it from Paris to Dakar..
imported to the USA, licensed and titled for road us in the USA.
white - original
LHD (left hand drive)
leather Recaro seats - original option
kevlar rally light pod - not installed
intercooler "ears" - not installed
Evo modular wheels w/ new tires + original wheels
350+ hp engine kit.
carbon fiber clutch, annular release bearing, smooth engagement. No more engine stalling clutch engagement
AEM programmable engine management installed, dyno tuned, smooth idle and more power, dyno report available
selector lever for 2-wheel, 4-wheel, locked differential
complete owner's history since new
Too many improvements and upgrades to list.
Available - Official Ford RS 200 Brochures:
If you would like to know more about this car, need technical assistance for your RS 200, have or want spare parts, anything related to Group B and the Ford RS 200 please contact us.
Sun International was involved in all of the Group B models.