1932 Ford Roadster "Hi
gh

Boy"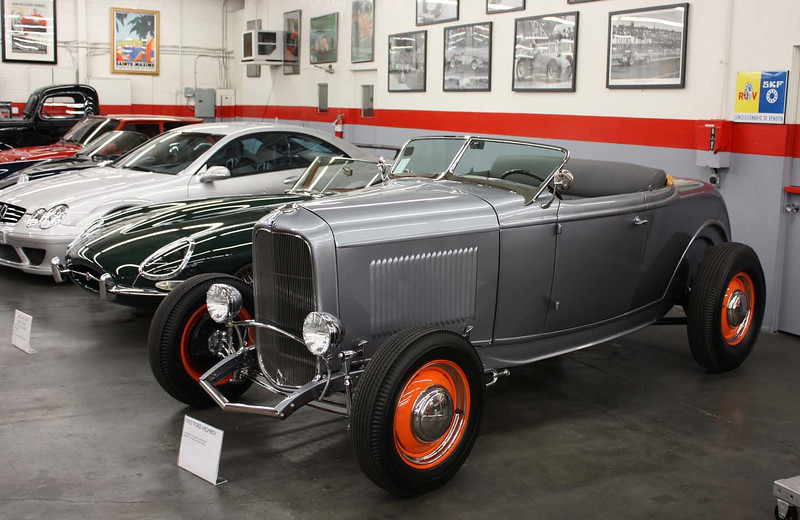 Chassis no. 18198934
Description by Canepa Design:
"This one's the real deal: an original "Henry Ford" hiboy, built in the late 1960's. Discovered after hiding for decades in a dry Arizona garage, it could serve as the definitive example of how hot rods were built in that era. Early Ford throughout, the roadster sits on original rails with a built 59AB flathead, a '39 trans. and, a '40 banjo rear end. The juice brakes and steel wheels are also '40 Ford, probably out of the same donor car. The front axle was dropped old school; heated in a forge and stretched. The front shock mounts, batwings, and brakes are all early Pete & Jake's parts, and the fabrication throughout vouches for the craftsmanship of the original builder."
"Bob Autrey found the car and treated it to a full restoration. The motor went to the specialists at H&H Flatheads in La Crescenta, CA for a total rebuild. It now sports Offy heads, a pair of '97's, and a set of Red's headers. The exhaust exits through a couple of Smithy's glass packs. For easy starting and reliability the original distributor was swapped out for an updated MSD electronic ignition. Smooth and dependable this motor pulls strongly - but will sit idling in traffic without a fuss."
"The '39 (gear) box was rebuilt with new synchros and the rear end outfitted with long-legged 3.55 gears for high-speed highway cruising. Tube shocks were added to the rear end and the steering box, an original '32, was treated to an expensive and comprehensive rebuild. This car track straight and handles confidently, even at well beyond the speed limit."
"After the chassis was dialed in, it was disassembled and the entire front end sent out for a dip in the chrome tank. The body was in extremely good condition and needed very little coaxing to prepare it for paint. The cowl vent had been filled back in the day, so it was a perfect candidate for a DuVall windshield. The original builder had added '50 Pontiac taillights and a home made headlight bar. Period-perfect they all went back on the roadster, along with a new pair of Dietz hot rod headlights."
"Autrey is a BMW motorcycle dealer in Long Beach, CA. Fond of Teutonic colors, he chose a silver/gray scheme for the car. "Competition Orange" steel wheels compliment the silver perfectly. The interior was stitched up in gray leatherette in traditional rolls and pleats. The trunk is finished just as nicely. A new set of Moon Eyes gauges fills the engine-turned dash insert and the simple chrome steering column is topped by '39 banjo wheel."
"This roadster is handsomely finished with a perfect hiboy stance - but its hidden beauty is in its ride and handling. It's no wonder hot rodders chose to use these early-V8 era Ford components when they built their cars. Of they were plentiful, but more importantly, they worked."
"This Deuce roadster has been fully detailed, tuned and sorted, and is ready for a collector that loves the open road. It's a rare opportunity to own a real Henry Ford hiboy."
• all-steel gHighBoyh originally built in the late 1960fs
• full race-built 286-cu. in. H&H flathead V8 2007
• 1939 Ford three-speed manual transmission 3-on the floor.
• live axle suspension with transverse leaf spring suspension front and rear
• 4-wheel hydraulic drum bakes.
• wheelbase: 106"
• Recent high-quality restoration
• "Drives like a new car – even at freeway speeds."
@
This all-steel ghi-boyh roadster was built in the late 1960's and benefits from a complete frame-off restoration and a full mechanical rebuild that was completed in 2007. Additional servicing and restoration by Bruce Canepa Dec. 2010 at cost of $17,000. Finished in a beautiful gray metallic that is nicely accented by a gray leather interior, this deuce sits on its original rails that have been boxed and features a full race-built 286-cu. in. H&H flathead V8 engine with a 1939 Ford three-speed manual transmission. A well known hot rod in Southern California, it also has a 1940 Ford rear end, a Duval windshield, and 16" Ford steel wheels. The previous owner said that it is his favorite to drive from his personal collection. It gdrives like a new car even at freeway speeds.h
1932 Ford Roadster Hi - Boy / Highboy Hot Rod

Period correct hot rod throughout

Ex - Richard Munz

Ex - Bob Autry

Ex - Bruce Canepa

Odometer: 565 miles

59A Flathead V-8 built by H & H Flatheads 2007 www.flatheads-forever.com

Original twin Stromber 97 carburetors. Not reproductions.

Original Offenhauser heads

3-speed manual transmission "3 on-the-floor"

Early Pete & Jake's suspension

Original '32 Ford body & frame (steel)

Raked Duvall split windshield

Red's headers

'50 Pontiac tail lights

Authentic Ford Banjo steering wheel

drum brakes all around

Vintage style Firestone tires
Comparable : Walker Morrison '32 Ford Roadster "Highboy" Bonham's Quail Lodge August 16, 2013 - $242,000
Other Hot Rod Fords at the Madison Zamperini Collection:
A good part of the legend of the flathead V8 engine is embodied in the hot rod culture that emerged from its tuning, modification and performance. The flatheadfs potential was never in doubt, and it did not take long for tuners to seize upon it and create ways to extract it. Through the hot rodfs evolution, one model emerged as the rodderfs favorite: Henry Fordfs 1932 Roadster.

The gDeuceh was the first V8-powered Ford and the first reasonably priced V8. Deuce Roadsters were dirt-cheap by the late thirties, and they were also light and amenable to modification with simple tools and basic skills. They ignited a revolution that spread from the back streets of California to the salt flats of Utah and throughout the United States, inspiring generations in magazines, television shows and iconic movies.

Over time, Deuce Roadsters evolved into two basic styles. The Lowboyfs body was channeled over the frame and frequently sectioned to reduce its overall height, lower the center of gravity and minimize wind resistance. The Highboy retained the stock body dimensions and mounting on top of the frame rails. It may have expended a few horsepower on frontal area, but it was a lot more comfortable for cruising.
The appeal to ours is its exquisite simplicity and genuine period presentation. The body is a real 1932 steel body. 565 total miles since restoration / build. Sorted, runs great, it is real and period correct. An honest well restored, period correct '32 hi-boy.
It has the real deal flathead with Offy heads and real Strombergs not repros. Banjo steering wheel, 3 on the floor, nice, smooth, powerful motor but period power not a 600 HP modern monster.
Hard to find a '32 that is this correct, super clean, fresh and, runs perfectly. Previous owners: Richard Munz, Bruce Canepa, Bob Autry.