1963

Ferrari 250

GT

California Spyder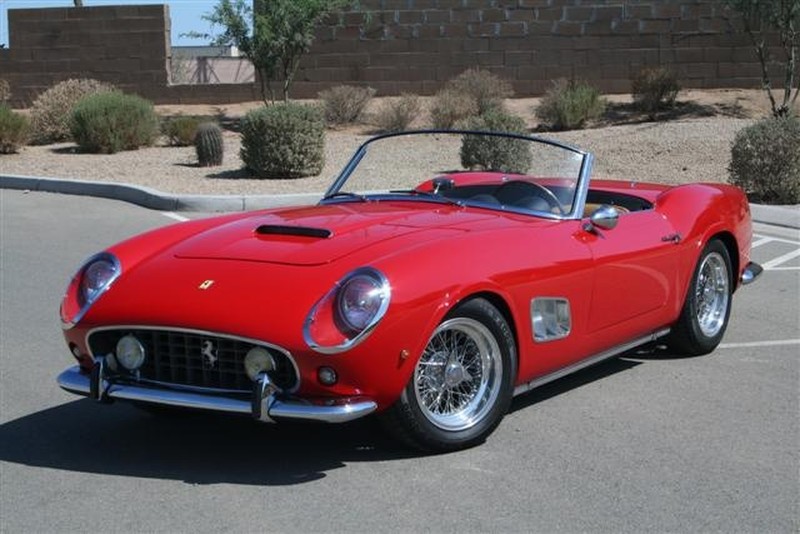 Beginning in 1999 with a complete, running, 1963 Ferrari 250 GTE chassis no. 3707, collaborating with the master, Chris Lawrence and Motorsports International to recreate the most iconic, romantic open sports car . . . the Ferrari California Spyder.
After 5 years, 4,000 + hours a complete body off restoration and re-body transformation into an exactly correct Ferrari California Spyder. Every detail. The alloy body and related structures were made by the Chris Lawrence / Wymondham Engineering. The project was more than 4,000 man hours over 6 years, using mostly Ferrari original parts, costing a small fortune. Extensive documentation is available including photos, receipts, time cards from the craftsmen.
LHD

all aluminum body, etc. by Wymondham Engineering Cost $68,000

4000 hours in build from 1999 - 2005

300 miles

many original Ferrari NOS pieces

file boxes full of receipts, photos and other documentation
Chris Lawrence / Wymondham Engineering: http://www.theguardian.com/sport/2011/sep/18/chris-lawrence-obituary
Chris Lawrence had a privateer F1 racing team with Ferrari engines in the mid 1960's. Which he provided along with technical skills for the 1966 John Frankenheimer film - Grad Prix
250 GT California Spyder
Designed for export to North America, the 1957 250 GT California Spyder was Scaglietti's interpretation of an open-top 250 GT. Aluminium was used in the hood, doors, and trunk lid, with steel specified elsewhere for most models, though a few aluminium-bodied racing versions were also built. The engine was the same as in the 250 Tour de France racing car with up to 240 PS (177 kW; 237 hp). All used the long 2,600 mm (102.4 in) chassis and originally fitted Pirelli Cinturato 185VR16 tyres (CA67).
Only 50 were ever made before it was replaced by the SWB version in 1960. It remains highly valuable for automotive collection, one example auctioned on August 18, 2007 at Monterey, California for $4.9 million.