197
8

Farr 38 Jenny H

- IOR One Ton


For sale: 1977 IOR One-Ton racing sailboat. Designed by Bruce Farr. Design List.. Design#62 plans. Built by Robertson, New Zealand. Currently located at Redondo Beach King Harbor, California. Successful competitor in the 1977 Sydney Hobart race. Complete history of Jenny H / Scalawag / Azzurra can be found at: RB Sailing. A web site dedicated to documenting famous IOR racing yachts, events and current activities for the international IOR One Ton class
Originally named Jenny H by 1st owner Ray Haslar for his wife, Jenny because the money he used to build this boat was supposed to go to something else. 2nd owner was famous ocean racer John Kilroy.
Construction is completely wood. The hull is cold molded epoxy 3 x 1/8th inch laminate. Outer skin is New Zealand Kauri Wood The entire boat is low maintenance.
She's fast, very light displacement, beamy, strong. A wide, large, open cockpit for racing crew or easy socializing on pleasure sails. For racing, she benefits from crew balance and team work for optimum speed. For pleasure sailing she'll be fun in any breeze.
Interior is minimalist providing lots of room, sleeping for 4 including 2 pipe berths.
Fun pleasure sailing in light breezes and exciting competition when you want to trim the sails.
Links to some sailing experiences on Santa Monica Bay (Los Angeles):
Description:
Farr 38 1977 IOR One Ton racing sloop. Originally Jenny H. Built by Robertson Bros., in New Zealand. Jenny H, first owner Ray Haslar. One of New Zealand's top racing sailors and yachtsman of the year. Jenny H was New Zealand's racing yacht of the year in 1978. She won the World One Ton Southern Cross Cup for New Zealand in 1978. In the 1977 Sydney-Hobart race, she was 5th on elapsed time, 2nd in class, and 7th overall out of 131 boats in a year when only 70 boats finished the race.
She came to California in 1978 following successful completion of the Sydney Hobart race. Renamed Scalawag and seriously raced by second owner John Kilroy. Successfully competed locally, nationally and internationally with John Kilroy, famous for Farr 40 and TP 52 racing. Winner of two LA to Honolulu TransPac races. During the Kilroy era he commissioned America's Cup designer, David Pedrick of Sparkman and Stevens, to design the fixed keel for this boat, replacing the lifting centerboard.
3rd owner was famous West Coast racer Mick Schlens.
Azzurra competed in the 2011 Newport to Ensenada race finishing 6th out of 14 in class with an all rookie crew - all new sailors who had never raced before.
Re-fit and maintained by a meticulous, knowledgeable owner and the World Sailing Foundation .The hull and keel were stripped to the epoxy level, faired, sanded and faired again. The bottom was spray painted with Interlux Baltoplate. The topsides, deck were professionally prepared, painted with Awlgrip 2. The mast and boom were prepared and spray painted in a booth by concourse automobile restoration shop. The internal mast hardware is all new fabrication - custom made light weight aluminum pulleys, with bronze oil lite bushing, custom made titanium pins and end plates and titanimum cleavis pins for the spreaders. The mast head light is LED and operates on a photo cell. The stern light is a new Orca LED. New Airmar ultrasonic speed sensor (not paddle wheel) and new Airmar depth sensor and titanium spreader pins.
 
Specifications:
Builder: Robertson (Lidgard Bros., Chris Robertson Boats and Sons, Robertson Bros.) New Zealand
Designer: Bruce Farr. Design #62

Dimensions
LOA: 38 ft 0 in
LWL: 29 ft 10 in
Maximum Draft: 6 ft 9 in
Displacement: 9500 lbs
Ballast: 4800 lbs

Engines
Engine Brand: Yamaha outboard installed as necessary. Otherwise stowed below for best weight distribution.
Engine Total Power: 5 HP
Construction:
Farr Design #62.

The hull is cold-molded epoxy , three laminated skins, each 1/8th inch.

The outer skin is New Zealand Kauri Wood.

The total hull thickness is 3/8th inch.

The laminate skins are over timber stringers and frames,
The original centerboard was replaced in 1979 with a keel designed by America's Cup designer David Pedrick, formerly of Sparkman Stevens, with inside lead, metal sheath and glassed over.
Interior:
Minimalist light weight for racing. Completely open and empty except for port side "chart table, starboard side wooden surface with small storage area below, port and starboard cushion settees suitable for sitting or sleeping with storage underneath, 2 pipe berths aft of the gangway. No head. Sometimes we carry a porta potty. Wonderful day sailing yacht with capability for over night staying aboard at a slip or anchored.

 
Electronics:
(2) Ritchie bulkhead mount compasses
Airmar

CS4500 Ultrasonic speed sensor. No paddle wheel

.

Horizon depth gauge
Horizon multifunction speed gauge
Orca LED masthead light (photocell operation)
Orca LED stern light
VHF radio
(1) Battery
Miscelleneous:
Interlux Baltoplate racing bottom
Awlgrip 2 - topsides, mast & boom professional

ly spray

paint

ed
Sails/Rigging/Deck Hardware:
Tiller steering with extension
Fixed keel
Aluminum boom

,

lightened

Prepared and painted by McCluskey Engineering Ltd.

Tapered aluminum keel-stepped mast (57 ft.)

Prepared and painted Awlgrip 2 by McCluskey Engineering Ltd.

Titanium mast halyard pins &

end

plates

. Custom made aluminum pulleys "profiled" to reduce weight aloft

Titanium spreader pins new custom made
aluminum halyard sheaves custom made, profiled for light weight, bronze self lubricating bushings
Fractional 3/4 rig

. 3 halyards at the hounds, 1 spinnaker halyard above the 3 jib halyards

new stanchions w/ Amsteel lifelines

Aluminum spinnaker pole by: Bondio Fabrication
Aluminum reaching strut available
Aluminum vang
Navtec rod rigging (2005)
NEW Running rigging (2005) with titanium shackles
(2) Primary Lewmar 43 winches
(1) NEW Harken Quattro 45 self-tailing winch
Barient 25 secondary winches
(2) Barient 21 winches
(1) NEW Lewmar 40 main halyard winch
(2) Barient 18 halyard & deck winches
(12) NEW Spinlock rope clutches sized for 5/16th line
NEW Harken windward sheeting traveler car and track
NEW Harken Jib cars and track
All NEW jib tracks including beam
(

3

) Main sails - (1) Kevlar (almost new), (1) dacron full batten with extra roach, (1) dacron
(3) Head sails - (1) #3 with battens, (2) #2
(4) Spinnakers - 0.5 reacher, 0.5 downwind, 0.6 runner, and 1.2 heavy weather
(1) Asymetrical spinnaker
(1) Staysail
(1) Storm jib
Deck
22 lb. Bruce anchor
30' Chain
150' Rode
special anchor bag

for quick deployment

MOB pole
(9) Safety harnesses
Original winches, not installed:
1 x Barient 21 USA

2 x Barient 18 USA

2 x Lewmar 2 SPEED 43

1 x Lewmar ( ?)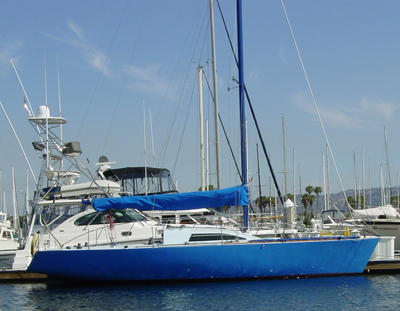 at the Portofino Hotel and Marina, California
After 17 years of enjoyment and adventure, racing and pleasure sailing Azzurra is available for a new captain and crew. During these 17 years hundreds of friends, guest crew, racers and many adventures. 2004 the boat was entirely stripped, renovated, re-fit, including much new hardware. New paint and varnish everywhere. Receipts and photos in abundance.
In 2014 Azzurra was hauled out for complete bottom and topsides prep and repaint.