1947 Cisitalia 202 Spider Nuvolari #0011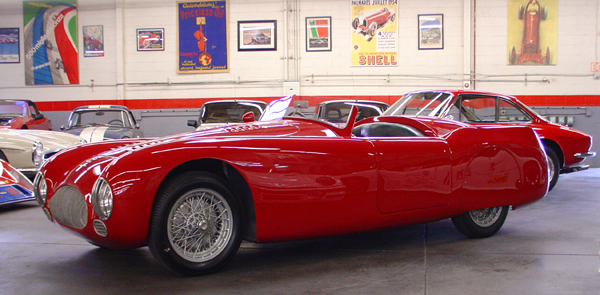 Chassis Nr. 0011 SMM "Spyder Nuvolari"

Built in 1947,

Exported to USA 1949

1st US owner: Dr. Samuel Scher New York car enthusiast and plastic surgeon.

1950 raced at Watkins Glen

1952 raced 12 Hours of Sebring by Paul Ceresole and co-driver J. Greenwood. Retired after 105 laps.

1952 Featured in Fawcett Publications number 109, Sports Cars in Competition
Sig. Ceresole is also said to have driven the car at Mt. Washington in 1954. After passing through several owners, in about 1971, Oscar Koveleski located the un-restored Cisitalia and had it delivered to his Pennsylvania race shop.
Koveleski's race mechanic didn't want to take on the project at the time, so it was acquired by Gary Ford of Pennsylvania. Finishing it in red, Ford was soon vintage-racing the gorgeous Spider Nuvolari at venues such as Lime Rock and the Pittsburgh Vintage Grand Prix. When he wasn't racing, Ford sometimes found time for the concourse circuit.
Although the curves and fins of the Cisitalia's exterior are truly dramatic, in true race-car tradition the interior is extremely spartan. The only upholstery consists of the two bucket seats, which were re-trimmed in leather with corduroy inserts. The floors are painted steel and the panels are polished aluminum.
Only a relatively small number of the 202s built received the stunningly beautiful Nuvolari Spider bodywork, and the survivors seldom come to market. With fewer than 15 hours on the Chris Leydon engine, this gorgeous and exceedingly rare Cisitalia is ready and eligible to race anywhere, including the Mille Miglia.
The Spyder Nuvolari an objet d'art et, vintage racer,
Engine restoration by Chris Leydon. 5 owners since 1949.
Automobile Magazine Links
Misc. Related Links: